Medieval Hotel Dětenice ****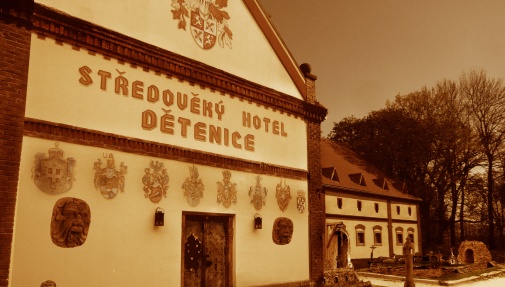 Reservation
If you have any questions or queries, please contact us.
Contact Form
The Medieval Hotel was opened in Dětenice in 2009 which expanded the concept of the Medieval Tavern and offers a new dimension of experiential tourism.
Medieval Hotel offers 68 highly stylish rooms with bathrooms with free toiletries.
The price of the room includes a lavish medieval breakfast.
There is a large parking lot available for customers behind the Medieval Hotel.
The grandiose entrance hall with reception desk has a massive wood gallery and provides a stunning open view of the ceiling.
---
The space is dominated by an open fire place which adds medieval heat to the hotel atmosphere.
A bellboy will take you up the wooden staircase to the first floor which is scented with wood and burning candles, taking you back to the dark age.
Press the iron wrought handle and enter a room scented with lavender and dried herbs with a bevelled wooden ceiling. In what may look like a dry latrine is actually a shower enclosure, with a hot water can in place of a shower. The stone trough to wash your hands may surprise you, but you will be pleasantly satisfied with it's sweet smell. There is no doubt that there is history present in every nook and cranny of every room here.
The unique interiors of the hotel will certainly enchant you and you will enjoy a night here that will surely become an unforgettable experience. If you feel a bit scared, that is because the hotel is haunted day and night! Mysterious energy will surround you and will return to ancient times that you can only now know from films and historical novels.
Experience unknown history and taste the Middle Ages on your own!
Reservation: rezervace@detenice.cz, tel.: +420 702 188 568