Medieval Hotel Dětenice ****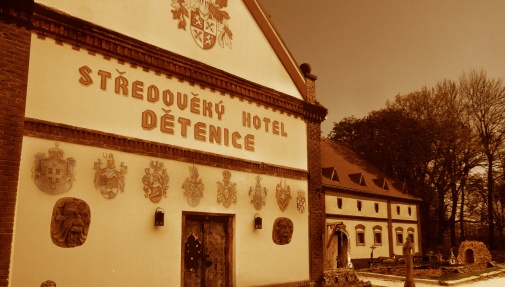 The Medieval Hotel was opened in Dětenice in 2009 which expanded the concept of the Medieval Tavern and offers our visitors a new dimension of experience.
Medieval Hotel offers 68 stylishly furnished rooms with private bathrooms
a lavish medieval breakfast is included in the room rate
Behind the Medieval Hotel there is a spacious parking place at the disposal of our guests
The grandiose entrance hall with its reception and massive wooden gallery provides a stunning open view of the ceiling
---
The space is dominated by an open fire place which brings medieval heat to the hotel´s atmosphere. 
A bellboy guides you up the wooden staircase to the first floor- lit and scented with wood and burning candles, taking you back to the dark ages.
Press the iron wrought handle and enter a room scented with lavender and dried herbs with a bevelled wooden ceiling. In what may look like a dry latrine is actually a shower enclosure, with a hot water can in place of a shower. The stone trough to wash your hands may surprise you, but you will be pleasantly satisfied with it's sweet smell. No doubt, the past is present in every tiny detail here. All is, however, pleasant and functional.
The unique interiors of the hotel will take your breath away and a night spent here will  no doubt become an unforgettable experience.
Should you feel a bit freaked out, that is because the place is haunted day and night! Mysterious energy surrounds you and takes you back  to ancient times that you only may know from costume dramas and historical novels.
Come and join us for an epic journey to the Middle Ages!
You can make on-line reservation through the button BOOK.